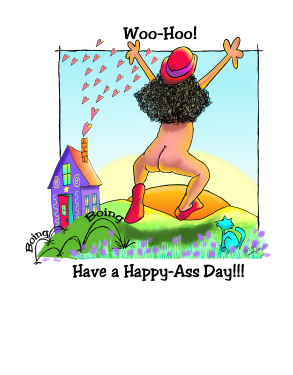 "Happy Ass Day"
WooHoo!! Have a Happy Ass Day!
All our cards are blank inside so you can express your personal wishes. Matching colorful envelopes with clear protective sleeves for single cards. Order 12 cards total and they'll come in a clear box with a gold stretchie ribbon and you'll get 10% off.
Categories: Best Sellers, Featured Products, Funny Greeting Cards.
Tags: birthday greeting card, cosmic, diane english, fun cards, funny birthday greeting cards, funny cards, funny greeting cards, funny uplifting cards, funny yoga cards, god, great cosmic happy ass, greeting card, greeting cards, happy, happy ass day, happy-ass, happyass, holiday cards, humorous, inspirational, new age greeting card, new age greeting cards, recycled paper, spiritual cards, spiritual greeting cards, spiritually incorrect.
Categories
E-cards are discontinued!
I have phased out our E-Cards, at least for the time being. Contact me at info@greatcosmichappyass.com if you have any questions.
Search Products
What People Are Saying
The BEST cards ever!
-Mike K.
You and your creations make my heart sing.
-Ann W.
I have enjoyed your work for many years and share your cards with everyone.
-Lynn K.
Nothing beats making people happy.
-Jan
Fantastic! Best cards EVER! I've been buying them for years.
-Eileen H.
Sign up for Great Cosmic Happy-Ass Newsletter
Sign up and have a Happy-Ass day!
OUR PRIVACY POLICY:
We honor your privacy and will not sell or release your email address to any third-party source. Of course, you may cancel your free e-newsletter subscription at any time.